UPCOMING EVENTS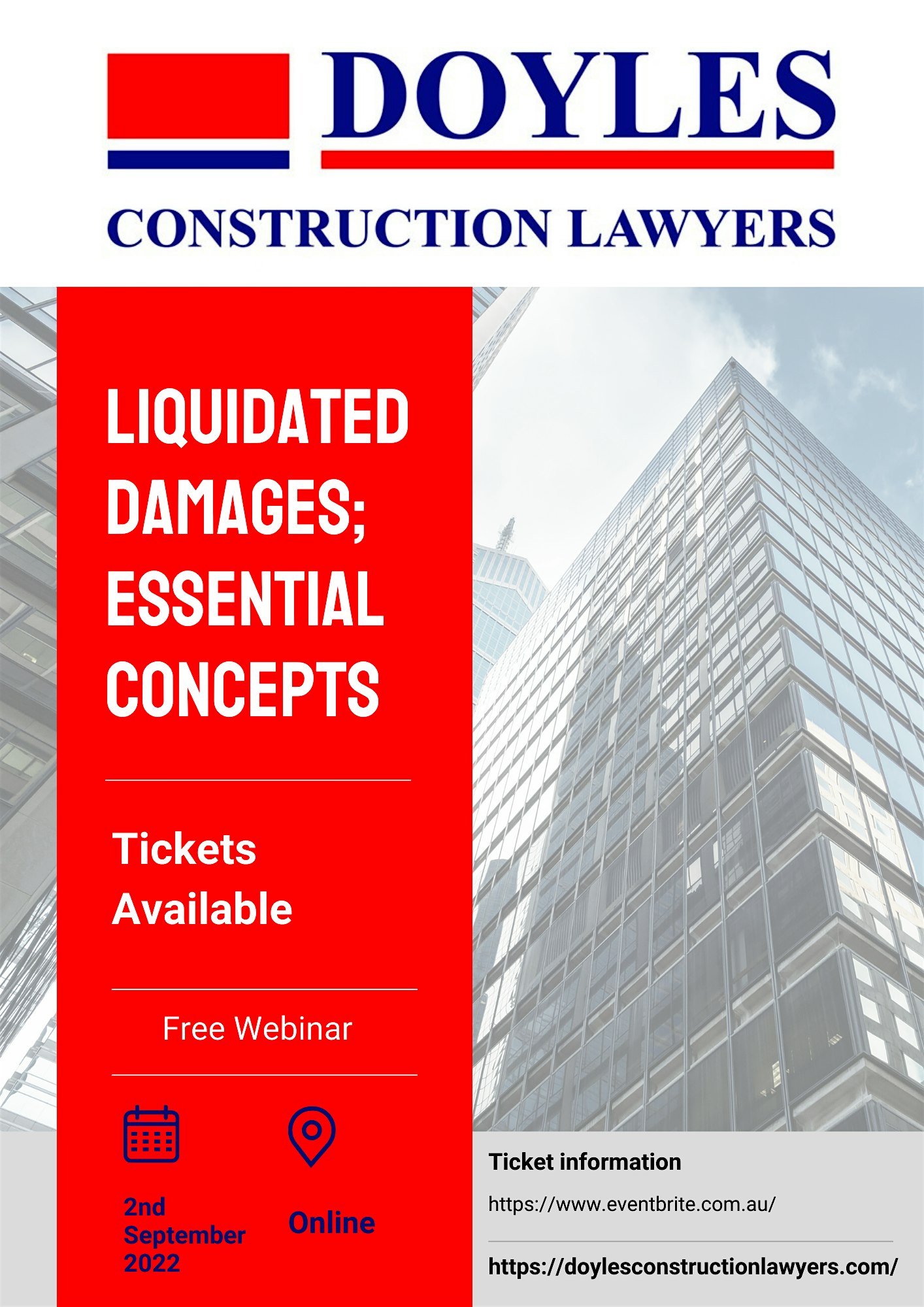 Liquidated Damages – Essential Concepts – Construction Law Seminar by Doyles Construction Lawyers
Read More »
CONFERENCES
Doyles staff speak at a range of seminars, conferences and association meetings.
Jim Doyle will be presenting at Key Media's Employment Law Masterclass. The event will run in Sydney, Melbourne, Perth and Brisbane with Jim speaking in each city on "Drafting and Enforcing Restraints of Trade for Employees and Contractors."
Jim Doyle will be presenting at ADEB's "Construction Defects – Australia's Apartment Crisis". The event will run in Sydney, Melbourne, Brisbane and Perth with Jim speaking in each city on:
Contractual Defects & Design Defect Liability; Regularion, Onus & Impacts
Legal liabilities: contracts between the owner & developer/contractor/subcontractor (including suppliers, architects, engineers etc.), tort, negligence and misleading conduct, indemnity clauses;
Potential for loss: whether or not this is an insurable event, policy wording, exclusion clauses, consequential damages, multiple parties on the same policy;
Defect clauses in standard contracts and likely improvements;
Principles outlined by the High Court in Bellgrove v Elridge: introduces a test of necessity and reasonableness, D Galambos & Son Pty Ltd v McIntyre: diminution in value to be measure of damages where remedial work is not reasonable;
Likely reform paths: legislation, Court activism, building codes;
Risk Management: from project inception to post-completion issues, new emerging models.
Jim Doyle also recently presented at: Crown Leadership International Group, Managing Construction Suspension and Contract Termination Masterclass, Brisbane
Disputes and Conflicts within Construction Contracts
What types of disputes you can expect
Unveiling the best practice methods for resolving disputes
Accessing the available dispute resolution mechanisms
Obtaining a fair deal for all parties in the dispute
Ensuring proper documentations of the outcome
Understanding legal and court processes for dispute resolution
For additional information on any of the forthcoming events email your enquiries to doyles@doylesconstructionlawyers.com
BOARDROOM BRIEFINGS (45 MIN)
Doyles offer a range of 'boardroom briefings' including on-site or off-site training in legal concepts and principles and to update senior executives on new developments in the latest legislation or duty practice.
This 45 minute presentation covers the following key points:
Threshold Issues: Who can claim, who is open to claims and when
Pre Adjudication Processes: Making a claim and issuing a payment schedule
Adjudication Processes: The Adjudication application, response and adjudication administration process
Post Adjudication Processes: Dealing with an award, making/enforcing payment. Grounds for appeal
Risk Minimisation: Administrative issues during a contract, suggested amendments to new contracts
Collateral risk issues, consultants, financiers, etc.
This presentation is ideal for Senior Managers and Executives requiring an understanding of the Securities of Payment legislation and its impact on an organisations risk profile and administrative procedures.
For bookings and enquiries: doyles@doylesconstructionlawyers.com
WORKSHOPS / SEMINARS (1/2 DAY)
We prefer to conduct contract management and other legal or industry-related training in-house. Participants are then free to discuss their organisation's particular issues and processes amongst the group without fear of breaching confidentiality.
Our solicitors are generally available by audio-visual link as well as in person, on Tuesday, Wednesday and Thursday during the normal working week.
Workshops include:
Notes and Guidance on the Act
Worked Examples
Adequate Time for Questions
Limited to 30 People
Workshops run for 4 hours with a break 'mid session' – suggested times either from 9:00am to 1:00pm or 1:00pm to 5:00pm.
Download session details overview here:
TOPICS:
EOT Claims1/2 day workshop covering the legal and contractual aspects of making and processing Extension of Time Claims.
Defective Work Claims
1/2 day workshop covering the legal and contractual aspects of making and processing Defective Work Claims.
Variation Claims1/2 day workshop covering the legal and contractual aspects of making and processing Variation Claims.
To discuss your options call 1800 888 783 or alternatively complete the form below to register your interest in our events: